Picture archives: Current Projects: Who we are: links: contact us:
Consolidated B-24D 41-23986 was received by the Army Air Corps on 9-29-42 in San Diego. After modifications in St Paul, it was flown to Sioux City and then back to San Diego on 10-23-42. It was flown to Hawaii on 10-28-42 via Hamilton Field Calif. The aircraft was stationed at Kahuku Field, assigned to the 372nd Bomb Squadron of the 307th Bomb Group. On 11-29-42, 1/Lt Richard Bartholemew and his crew of 6 crashed and perished in the Waianae mountains 2 miles from Wheeler Field, apparently after takeoff. The aircraft was loaded with bombs and ammunition and was most likely departing on a combat patrol. This crash site is scattered over a wide area, suggesting break up after initial impact. No official accident report has been found to date.
The site is located on Land leased and controlled by The Nature Conservancy of Hawaii. Permission is required to enter the Honouliuli Preserve.
Because the Nature Conservancy has decided to turn over the control of the Honouliuli Preserve to another land manager by the end of 2006, HAPS elected to proceed with an interim memorial plaque to be placed at Hickam AFB.
In mid February 2006, the plaque below was delivered to the Commandant of the Professional Military Education Center at Hickam AFB. It is now on display it in the conference room of the Commandant of the Center amongst other plaques of honor.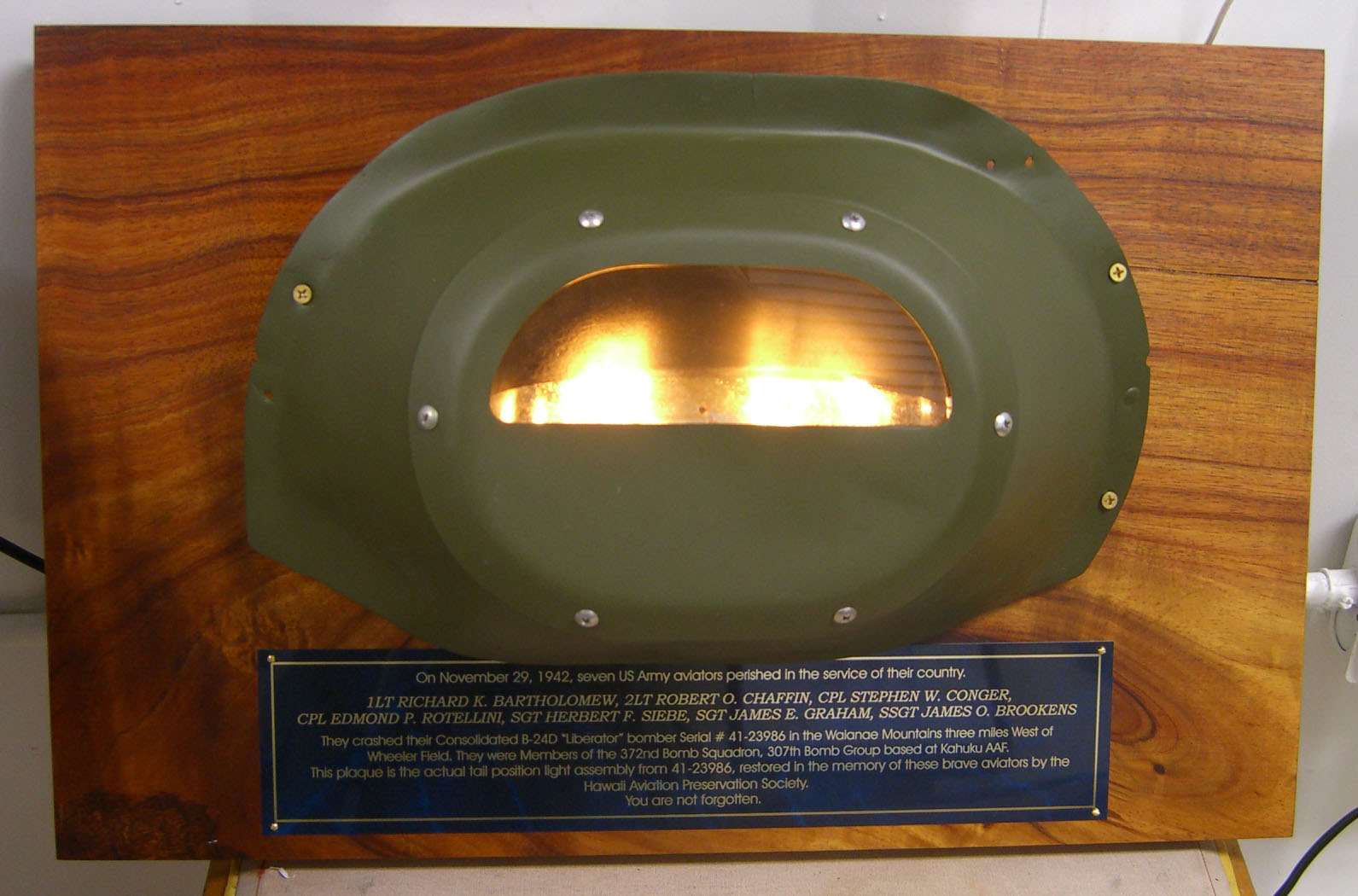 Click on image above to enlarge

Starting a survey with an ominous rainbow
EOD personnel rendered bombs safe

Live ammo found buried

Four of these are scattered around site

Main Landing Gear

Possibly for Bomb Bay doors

Scott on the tail

Note the still fresh colors

Spar buried in the ferns

The top of the VS was cut off by earlier vandals
A wet lunch
Note the chrome is still shiny

3 of these in the area
More good paint on unident part

View fro the rear of the Horiz Stabilizer

A reduction gear

Again, well preserved paint

Star on wing

A closer view of the star

Colin at the tail

Supercharger part

A wet crew arrives back at the vehicle