Picture archives: Current Projects: Past Site Surveys Who we are: links: contact us:
Photo of the Actual B-24J 44-40332 in San Diego taken shortly before it crashed here.

(Photo Courtesy Naval Air Museum Barbers Pt)
NEWS Flash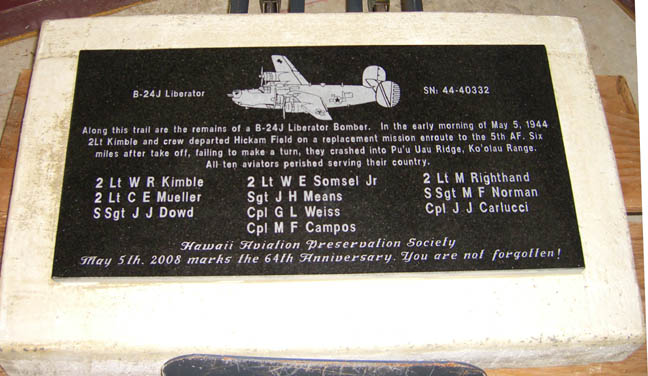 This 300 lb granite plaque was placed at the trailhead of the Aiea Loop Trail then dedicated at 10:00am on Monday May, 5, 2008
2/Lt Kimble and his crew were one of a flight of B-24 aircraft departing Hickam in the early morning of 5/5/44 to ferry their aircraft to the 5th Air Force in the South Pacific. For an unknown reason they didn't make the required right turn to avoid the high terrain to the Northeast. The aircraft struck the hills almost straight ahead at the 1425' level and all 10 aboard were killed.
A a permanent crew memorial not far from the crash site in the Keaiwa State Park was placed on May 5th. A special thanks to Dan Quinn Director of the Hawaii State Parks under the Hawaii DLNR and his able assistant Martha Yent, who have helped make the placement of our last three monuments possible.
Colin Perry, HAPS director opened the ceremony by thanking everyone who helps make these tributes to our fallen airmen possible. Deputy Command Chaplain Guild gave the invocation and benediction, Colonel Stanley Osserman, Commander of the 154th Mission Support Group (HANG) at Hickam gave a moving speech of remembrance and gratitude for the sacrifice of this crew and of all United States service members who have given their lives in the defense of our freedom. Dr. Tim Keck, PACAF Command Historian also said a few well chosen words to mark the occasion. Camera crews from three local TV stations were present to record the event for the evening news.
The gallery immediately below shows some of the participants in the dedication ceremony

Closeup of plaque taken before installation

Monument decorated before the invocation and benediction

Chaplain Jeffrey G. Guild and Sr. Historian Steve Diamond just before the invocation.

A small group gathers after the ceremony to reflect on the event.

15th Airlift Wing Historian Jenney Crider and Colonel Osserman

NAMBP Director Brad Hayes and Keynote Speaker Colonel Stanley J. Osserman Jr,

Hickam History Club members Toni Russ and and Jenny Crider place ornate hand made lei on the monument

Col. Osserman, Dr. Keck and Chaplain Guild

KITV cameraman and reporter Dick Allguire
This gallery shows the various larger pieces of wreckage at the site as of early 2004. The site is steep with a widely scattered debris field. It is potentially dangerous because of the many sharp pieces of wreckage and poor footing.

CKP and Turret

Engine in the mud

Another one of the engines

Another Engine

Jugs showing on this engine

Large fuselage section & Scott

More Fuselage

Fuselage & CKP

More Fuselage

Landing Gear
Gear and Tire

GI Flashlight

Turbocharger

Gun Turret
Unidentified Part

Unidentified Part

Internal View of Wing section
Technical details and description of the B-24J: