Picture archives: Current Projects: Past Memorials & Surveys Who we are: links: contact us:
Luke Field and NAS Pearl Harbor
on Ford Island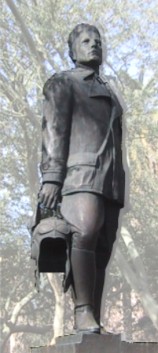 Arizona statue of Lt Frank Luke, Jr.
WWI Medal of Honor (posthumous)
334 acre Moku'ume'ume Island, later named Marin's Island, after Don Marin, famed botanist and interpreter to the king. Next, in 1825 named Rabbit Island, because of Marin's goats, hogs and rabbits left behind. Then finally Ford's Island, Named for Dr Seth Porter Ford, a prominent Connecticut physician who arrived in Hawaii in 1851 and acquired the island in late 1866. Ford died at the age of 48 on 11/19/1866. (Honolulu Advertiser 1927)
Moku'ume'ume, or "Island of Attraction", was named for the racy ancient Hawaiian game of 'ume played there and was reserved for married couples with no offspring. The game entailed swapping sexual partners with the aim of impregnation of hitherto childless women. ( Kawena Pukui, 7/16/53)
In 1917 the Army purchased Ford's Island for $236,000 and in October moved the 6th Aero Squadron there. The field was later named in honor of Lt. Frank Luke of Arizona Medal of Honor winner who was shot down and killed in Europe after a short but blazing combat career when he shot down four enemy aircraft and 14 balloons in 17 days. At the time of his death, Luke was the leading ace of the U. S. Air Service, having 18 confirmed victories. Luke AFB in Arizona is now named in his honor.
In 1923, the USN moved it's aircraft from the Pearl Harbor Navy Yard to the East side of Luke Field and operated various squadrons there with Cdr. John Rodgers commanding. The Army, Navy and Pan Am shared facilities at Luke Field until the Army moved to Hickam Field in November of 1939 and Pan Am relocated to Pearl City in 1940.
The WWII massive buildup plus the geographical constraints on the now renamed Ford Island, relegated the field to a command and support mission throughout most of the war. CASU 1 continued to provide support for the many carriers that passed through Pearl Harbor during the war and NAS Barbers Pt. became the main hub of naval aviation passing through Hawaii. The Army Air Forces relocated to Hickam Field a mile away in November of 1939 and the Navy continued its wartime buildup at Naval Air Stations Barbers Point, Pu'unene, Kahului and Hilo
Ford Island's runway is now closed to air traffic and the island itself is being refurbished through a massive amount of dollars going towards new shopping, MWR facilities, Naval training units and military housing. See a 1943 Map of Ford Island courtesy of John Bennett in PDF Format
The new Pacific Aviation Museum opened as a first class aviation museum in 2006 on Ford Island. The museum eventually will occupy two historic hangars opening in stages over the next several years
Of particular interest to aviation and conspiracy buffs, the PAA "Hawaii Clipper" being blessed at the Pearl City landing adjacent to Ford Island in 1936 in the gallery below, went missing in 1938 and claims have been made that it was hijacked by renegade Japanese naval officers on July 29, 1938, more than three years prior to the attack on Pearl Harbor. The crew and passengers (15 people) were supposedly murdered and buried in concrete at the then new Japanese naval hospital on Truk Island. For more info, go to: http://www.hawaiiclipper.com/
The first photo gallery below depicts the military use of Ford Island from its beginnings in 1917. The photos were provided courtesy of the 15th Airlift Wing History Office, Fleet Imaging Pearl Harbor and the National Archives.

Capt John Curry 6th Aero Sq CO, 1917
Capt John Brooks, 2nd CO of 6th Aero Sq, 1918
6th Aero Sq Facilities Dec, 1918

Hangars and Curtiss HS-2L Flying boat
DH-4s and_JN-4-6s at Luke Field, 1919
The two parallel white roofed buildings at lower left are still in place in 2007

Swim meet at Sub Base, Feb 1921
General Summerall inspects Luke Field
General Summerall inspects Luke Field
Building Luke Field Barracks, Sept 1921

DH-4s Ca 1920
DH-4 in Luke Field Hangar

DH-4 and Pvt Elmer McIntire, ca 1921
1930s Barracks at Luke
NARA via John Bennett

1930s Barracks at Luke
NARA via John Bennett

Docks and Boathouse at Luke circa 1930
NARA via John Bennett
Docks and Boathouse at Luke circa 1930
NARA via John Bennett

Air Service Quarters, 1920
Aerial Oblique, Ca 1918
Luke service club early 1920s

Fight Night at Luke- Parenti-vs-Shorty Harrison
BOQs, April 1923

BOQs, April 1923

DH-4Bs at Luke, Ca 1923-1924
DH-4B at Luke, Ca 1920s
DH-4B inspection at Luke, Ca 1923-1924
Martin NBS-1 at Luke Field 1924
NBS-1s and DH-4Bs at Luke, March1924
NBS-1s and DH-4Bs at Luke, Ca 1924

Tent Hangars at Luke 1925
Ford Island 1925. Note Navy Facilities on East Side

DH-4M at Luke, Ca 1925-26

O-19s Taking off at Luke Field

Luke Field Oct 1930

Luke Field Ca 1931
Luke Field Ca 1931

Keystone B-6As at Luke 1931
Paa's "Hawaii Clipper" being blessed at Pearl City Peninsula. April 1936. (Nancy Kennedy via Karen Schoenberg)
Navy PK-1 Seaplanes from Ford Island 1933
Feb 1945 SE Oblique showing NAS Pearl Harbor, Hickam and NAS Honolulu
Courtesy National Archives. Note the large buildup of equipment and supplies for the war in the South on Waipio Peninsula on the right.
North Oblique Aug 1951
Pearl Harbor-Hickam North Oblique Oct 1951
Pearl Harbor-Hickam North Oblique Feb 1964
The monument to Pan Am's 50 years in the Pacific. Photo 1985 by Karen Schoenberg
1944 Approach Chart to NAS Pearl Harbor
Via Robert Hill
This second photo Gallery below is from the collection of Joe Genne' and is a truly remarkable series of photos depicting the men and aircraft of CASU-1 at work at NAS Pearl Harbor in late 1945 and 1946. We will be refining the gallery below in the coming weeks
All Photos below: Copyright [C] 2007 by Joseph H. Genne', Used by permission
Joe Genne in formal whites January 1946
West Aerial oblique of NAS Pearl Harbor Ramp
Unidentified crew of SNJ I-33

Drop check on Corsair White 41

Martin JM-1 Marauder on the Tarmac

F6F and F8F on August 1, 1946
SNJs I-26 and I-33 during 1945
Dejoy, Clott & Mex during 1945

F2G taxiing (Starkes - Pilot) 4-15-1946

Ops Office Group 1946

Blacky Holtz 8-27-1946

F6F drop check 8-1-1946
McCaffrey and Costar 4-27-1946

Henderson in a TBM 8-19-1946
F8F and F6F on the tarmac

Genne in the rear pit of an SB2c
Drop check on TBM-3E
Curtiss SC-1 on Floats
Lt Walter Deiter in a F7F Tigercat

SNJs I-1 and I-3 airborne over Oahu
PB4Y-2 Privateer and F4U Corsair in Formation
PBY-3 Catalina on a jet assisted takeoff
Corsair over Oahu, Col. Moore

Corsair inflight off leeward Oahu
F4U Corsair in flight over Oahu
F6F-5N Sept 1945
Ford Island 4-28-96

NAS Pearl Harbor Runway 4
Haleiwa Field 7-9-46
Haleiwa Field 7-9-46
Old Pali Road Aerial June 1946
SNJ's in Cloe Formation
F4U Airborne with Bob Treat Flying
NAS Kaneohe Bay 4-28-46
Kaneohe Ramp Tower 4-28-46
Kaneohe Ramp 4-28-46