Picture archives: Current Projects: Past Site Surveys Who we are: links: contact us:
TBF-1C BuNo 17033
On October 15, 1944 Ensign James J. " Big" Murphy of VT(N)-90 Departed Barbers Pt NAS on a routine night familiarization flight around Oahu. This "night squadron" was getting ready for a combat cruise on the USS Enterprise which was to depart Ford Island on 12/24/44. Ensign Murphy, who only had a total of 26.7 hours of night flying, apparently became disoriented and flew into a valley of the Waianae mountains, impacting at the 2100 foot elevation level. It appears that his right wing and right stabilizer struck the valley ridge first, separating from the aircraft, which then cart wheeled along the ridgeline, breaking up in large pieces. Ensign Murphy, of Hartford Connecticut was killed in the crash.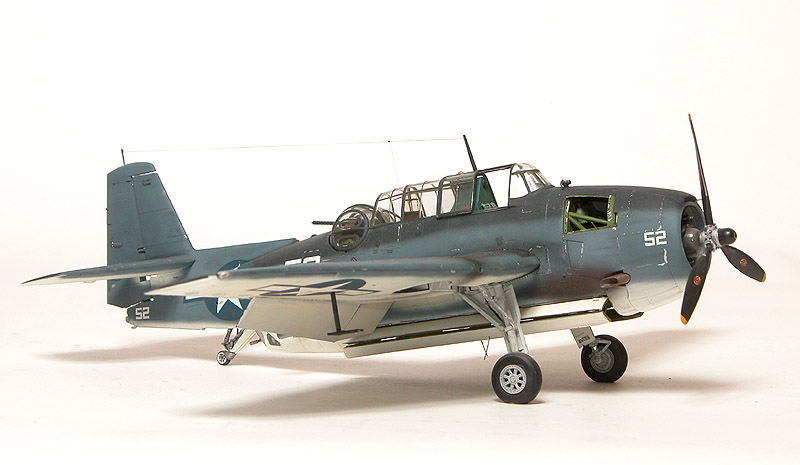 TBF-1C Model in the same 3 Tone Pacific Paint Scheme as BuNo 17033
(Non Specular Sea Blue FS 35042, Intermediate Blue FS 35164, Non Specular White FS 37855
After 12 months and four trips into the mountains looking for this site, a HAPS survey crew finally located it in December of 2005. A second HAPS survey team revisited the site in early January to record further details of the debris field and exact impact point determination. This site, like most in the mountains of Oahu is in treacherous, steep terrain with loose boulders. The site is on the private land of the Nature Conservancy of Hawaii and permission is required by three separate entities to gain access. In addition, the United States Navy regards the site as a gravesite and as such is protected by law.

Navy Accident Report

Color Plate of TBF-1C

Crushed Bomb Rack

Placard near Wing Fold

Collapsed Rear Fuselage

Gunner's Armor Plate

Buried Main Tire

Oil Cooler

Retracted Tailhook

Left Inboard Wing section
Left Outboard Wing

Right Horizontal Stabilizer

Live .50 Cal ammo on the ground

More Ammo

Portion of Rudder

Turret Plexiglass Access Panel

Turret Race

Colin With Lower Left Inboard Wing

Colin & Don with Upper right Inboard wing

Door Handle for Crew Access

Fuel Tank Selector

Don Holding Gunners Instrument Panel

Looking inside the Fuselage

Scott & Colin at the Fuselage
Tail of Aircraft Looking Forward

McD Philpotts with one blade of the propellor with hub and reduction gear. It was found within 10 feet of impact point, 150' feet above main debris

Jan 06 crew minus Scott at point of impact with 60 degree drop off