Picture archives: Current Projects: Past Memorials & Surveys Who we are: links: contact us:
Historic Hawaii Airfields Pages Historical Articles & Anecdotes
Haleiwa P-40K SN 42-46209 Crash, Major Bill Southerland, KIA
On December 9th, 1943 at 1:00pm a flight of four P-40Ks led by Bill Southerland, the Squadron Commander of the 78th FS, made a simulated attack on another flight of P-40s. In the ensuing melee, a mid-air collision occurred between Maj. Southerland and 2nd Lt Howard Edmonson who was flying P-40K SN 42-46209 the "Dee-Icer". Major Southerland, flying P-40K SN 42-45758 was killed in the accident, while 2nd Lt Edmonson managed to bail out and suffered only minor injuries. Three months later Lt. Edmonson was killed north of Kahuku when he failed to pull out of a high speed dive during a practice gunnery pass on a B-24. Both Lt. Edmonson and his wingman plunged into the ocean in their P-47s and were never recovered.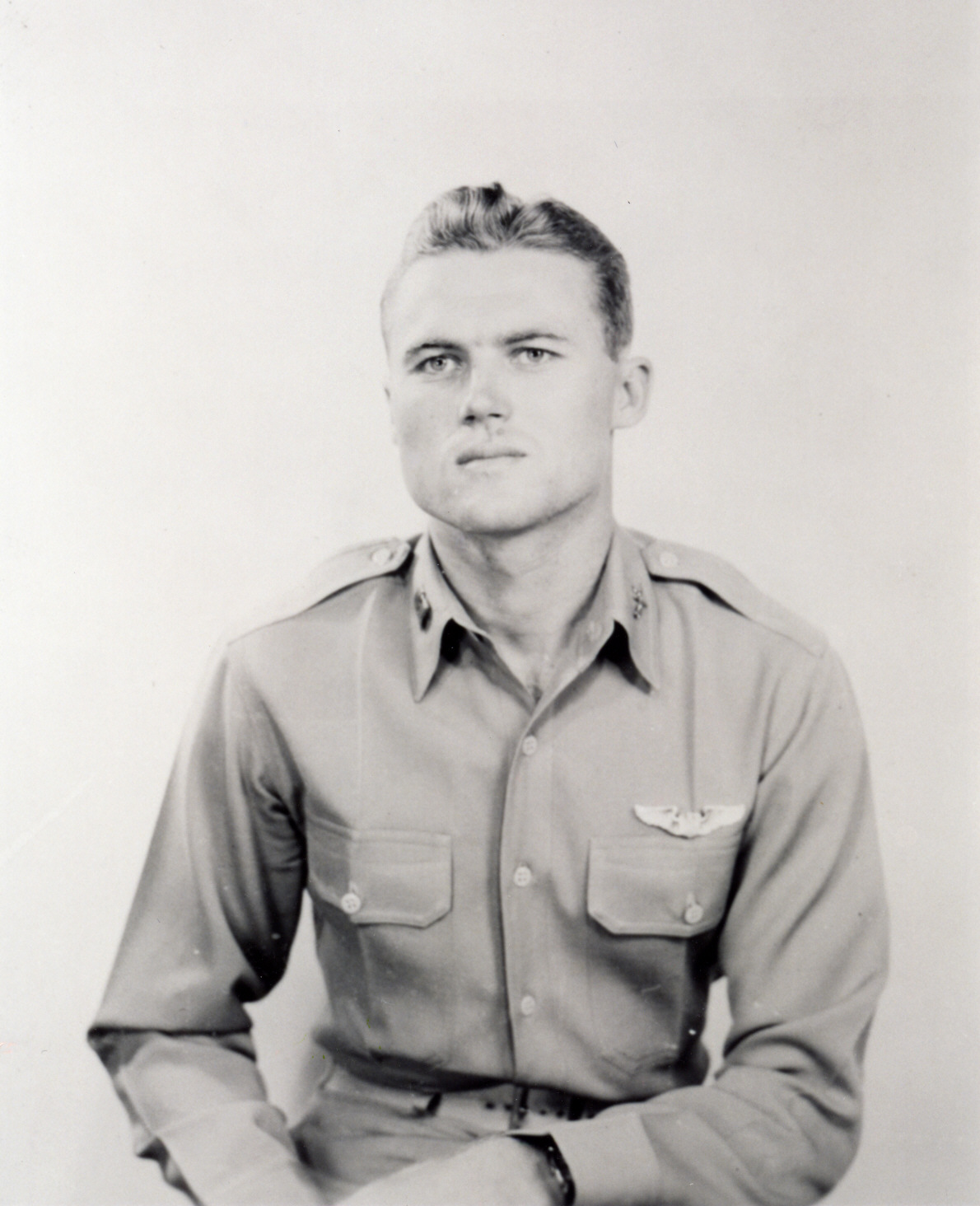 Bill Southerland as a Captain
(Photo courtesy Mark Stevens, 7th Fighter Command Association)
Members of our group became aware of this accident site in 1998 when a pig hunter advised them of the location of a "crashed airplane" It wasn't until late 2006 that HAPS organized a survey crew to examine and record details of the wreck site. The location and surrounding terrain is steep and treacherous making the survey very difficult, and at times dangerous . Souvenir seekers had previously removed parts of the aircraft and attempted to cut off the propeller blades.
It was decided by HAPS that we should attempt to recover what was left of the aircraft in order to prevent further desecration and deterioration. Permissions were granted by the private landowner, and the remains of the aircraft were removed from the site. All of the parts removed were donated to the Hawaii Museum of Flying and are now in the care and custody of the museum at Kalaeloa Airport.

Allison Patent Plate
Dataplate corroded away

Don hanging on a rope
Don and Scott at the engine

Elevator counterbalance

Rigging the engine lift
Parts in duece and a half
Placing hook
Lift crew in place
Waterfall below impact site